Three Ways I Can Help You Master Your Money Skills by Dalene Higgins
Introduction from DeeDee Baze
As many of you know, before I do a financial plan with someone I like to have a conversation about the person's relationship with money: meaning addressing their experiences over time and mindset. Together we identify what areas that are healthy as well as areas that need to be nurtured; regardless the next step is to move on to the actual financial planning process. I am grateful to understand people on a deep level, it helps me when I make recommendations,but if there needs to be more work done to improve their mindset or money habits they may need to seek out additional help. That's where a money or financial coach could be beneficial. Though we both specialize in working with people and their money; we have different areas of expertise that actually complement each other.
I have had the pleasure of meeting one of these wonderful coaches and invited her to write this month's money blog.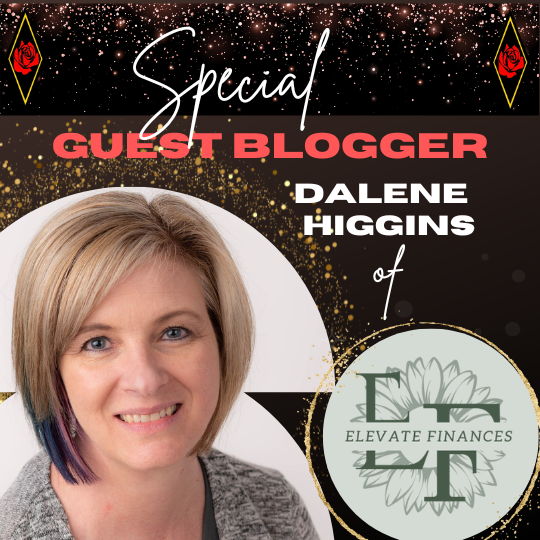 Hi, I'm Dalene Higgins with Elevate Finances, a financial coach, book lover, and numbers nerd. I am married to a wonderful husband of 29 years and we have a fantastic daughter who is 25.
I became a money coach after I had reached MY ultimate dream of retiring early. The overwhelming sense of accomplishment drove my passion to want to help others achieve their dreams. My mission is to empower women with financial knowledge, money strategies, and money habits to provide the confidence they need to continue their personal finance journey after coaching.
When I began coaching, I was helping clients know their numbers and then created a unique budget system for them. We would work on setting up the system, creating a money routine, and adjusting the budget as needed. I quickly learned clients needed more. I soon realized there were many struggles around emotions and thoughts with money.
Three ways I can help you master your money skills, more than just money management.
Learn to expand your vision of what's possible with your money. I help clients dream and define goals both short and long-term, and create a budget centered around these goals. I also help clients understand their values and to be mindful when spending to be more in line with those values.

Have more intention and awareness around money. I help clients understand their emotions and actions with money. Coaching with exercises and developing new habits and strategies help to offset those behaviors that could be detrimental to their progress with money.

Better emotional experience with money. I help clients understand their current money beliefs, good or bad. Where necessary, we begin to create new money beliefs to create a new relationship with money. Learning that money is a tool and can serve us well when aligned with our values and goals. By creating positive mindset shifts, clients can progress more quickly with money.
Client Journey
Whether divorced or widowed, overwhelmed with debt, or just needing help learning to manage money, all clients begin with a two-hour session called, The Big Picture. This strategy session deep dives into your personal finances to assess your overall financial health. You receive personal guidance regarding spending, ways to tackle debt, how to save more, and how to best prepare for emergencies. Based on these suggestions, together we create an action plan (budget). You leave that session with that plan and a full understanding of all the steps within that plan to move you forward to your goal.
I also support clients with long-term coaching. Initial coaching is a three-month commitment.
During this program, you will learn how to manage and track your budget, and gain the mindset needed to achieve YOUR goals and dreams.
Together we create a money system for you. This system is created around your strengths and comfort level with money. I believe individuals are unique when it comes to their money skills and personalities. Money is not one size fits all. I do not slot clients into a particular spreadsheet or budget app. I customize a system for the client so they will have the best success possible. I have set up systems for clients to use pen and paper, cash envelopes, or a budget app that fits their needs and wishes.
As we are creating this system, the client will complete mindset activities and exercises. These activities will help identify any problematic behaviors or negative feelings the client has toward money. Addressing these issues is just as important as implementing an ideal money system for the client. The client will learn strategies to help them cope with these money blocks and emotions in the future.
I asked a current client to rate her confidence at the beginning session and then on that day. We were at the mid-point of the program. She stated her confidence, in the beginning, was zero, but on that day she was feeling a confidence level of eight. I was ecstatic, to say the least. After a recent divorce, with a lot of emotions, she was able to find this level of confidence in herself with money.
I would love to go on a journey with you, to help you get a step closer to your financial dreams.
For readers of the Alphemita blog, I am offering a 10% discount by using code BLISS10 when booking services with Dalene Higgins at Elevate Finances. You can find more information about me and my business at www.elevatefinances.us or join my newsletter Money Message for weekly motivation and early bird specials.