Printed books vs. Digital books, which is better for the earth?
Experts cannot agree on which is more earth friendly
By Rhonda
I used to love the smell of freshly printed worksheets in grammar school (the ones where the teacher had to rotate the handle to feed the paper through, and they had to be very careful not to smear the ink. if you were very good- maybe he/she would let you print the worksheets! I still love the smell of a brand new, never opened, unread book! Or, as my mister says "All the words haven't been read off of it yet".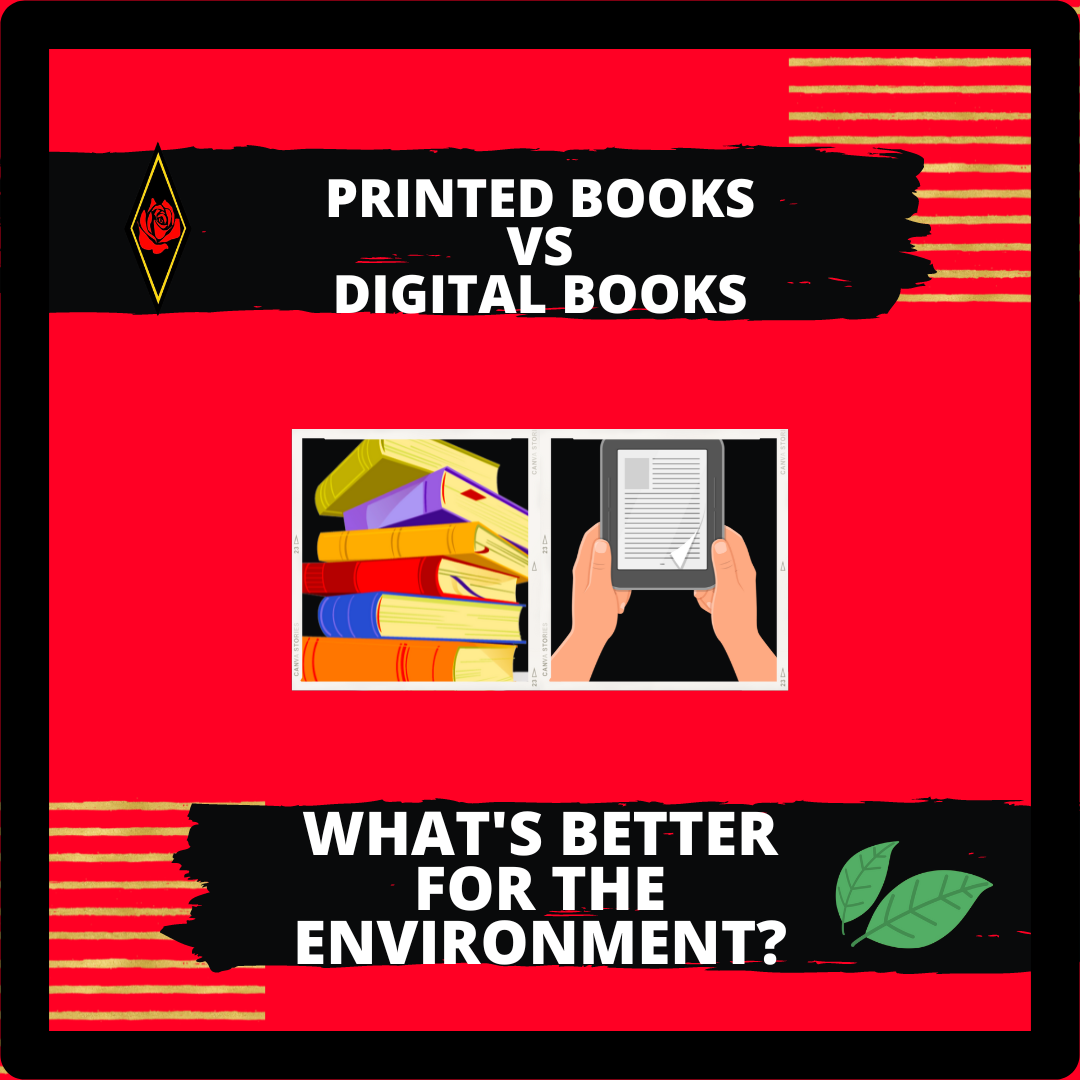 When I searched how many trees it takes to make 1 average sized book, I found this article from Blogunity. Read on if you want to see where they give the math behind how they came to the figure OR cut to the important bit in big print below.
"A tree that is around 1 foot in diameter and 60 feet tall. Ignore taper for the measurement. 81,430 cubic inches of wood. A tree like that of pine would be around 1,600 pounds. Now turn the tree into pulp to make paper. Half the tree is no good for making paper (knots, lignin, etc). So 850 pounds of paper. A tree could then produce around 80,500 sheets of computer paper. A book's pages are half that size, or 161,000 sheets. Your books might be around 400 pages (200 sheets). So a tree would be around 805 books."
So a tree would be around 805 books.
Now, I love to read. And depending on the genre, I can read a book a day (less than 400 pages and usually a cozy mystery). That's nearly 365 books a year for just me! My husband reads about that many himself. So our home would consume around a tree a year. And second hand books take our potential tree consumption down to about a half of what a new book takes in trees. I was surprised to read that the Blogunity article said that actual paper books are better for the environment than eReaders. They give plenty of data to back up their conclusions in the article if you want to look at that.
Another online source Anthropcene says "If you read a limited number of books, the paper book will most likely limit your greenhouse gas emissions. But for heavy readers, e-books have a smaller carbon footprint." You can read the entire article to see how they came about their conclusion.
An article by Commercial Waste online says "prolific readers would only have to read around 44 ebooks to halve their carbon footprint. With many people enjoying their e-readers for a minimum of four years before replacing them, they have the potential to significantly lessen their CO2 emissions."
My thoughts. For my household, it is more eco-friendly and makes more sense to read eReaders. We each have devices that are over 5 years old, and I have hundreds of ebooks and audible books on mine alone. Some are novels over 3,000 pages while others are booklets of 10 or 12. I'm sure if I looked at my mister's eReader, I would find something similar. From what I can find, we have actually reduced our carbon footprint by using eReaders (we also don't turn on the tv most days until 9 or 10pm, choosing to read or talk instead). For others who only read a few books a year, buying printed books is better for the environment. So really it's up to each of us to decide how to reduce our carbon footprint and live more sustainably.
We must do what makes sense in each of our homes to help reduce the impact we have on this planet. We need to leave the planet better than today for future generations.