🚩 Don't Ignore The Red Flags!
Overlooking Them Could Cost You Thousands of Dollars 🚩
I want to share with you what a dear friend of mine is presently going through. I have her permission to share this, and she even picked her name for this blog, Carolyne.
The story begins in the fall of 2021. Carolyne's husband had been having health issues that made it necessary for her to stay home 95% of the time to care for him.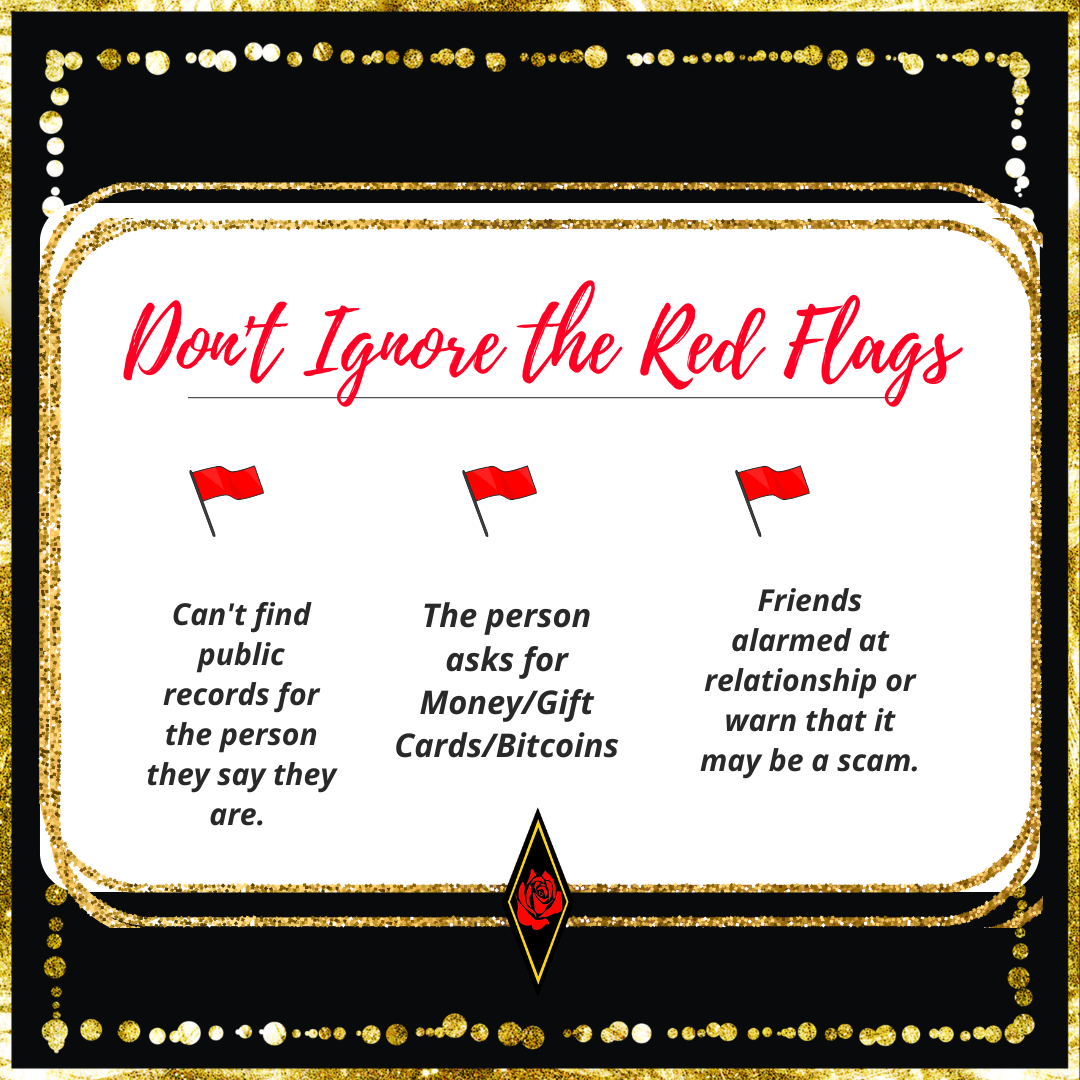 She was feeling lonely, unloved, isolated, and mentally & physically tired from being a family caregiver.
She received a message from a man through her FaceBook account. His name was possibly familiar to her, she thought maybe they had met overseas many years ago- the face could have been the man she met all those years ago. So, she accepted the message and wrote him back. They struck up a casual conversation reestablishing the friendship.
Fast forward several months and her husband dies. This predator was everything we would want a friend to be: available, non judgemental, caring, attentive, supportive.
Enter me as Carolyne tells me this tale.
My alarm bells were ringing like crazy! 🚩
So, I asked for & was given his personal details that he had shared with her. I started digging into social media, Google, everywhere I could think to look for information on this man.
🚩 I could not find him anywhere! 🚩
There were no property records where he said he lived, no licenses that he should have had, no obituary for the wife that he supposedly lost in a car wreck. 🚩
I called Carolyne and told her of my findings, and when she confronted him via social media messages - he had answers for everything she asked.
He sent videos of himself speaking to a group of people, he sent pictures of him with his supposed daughters.
She was in a very vulnerable place with the death of her husband, trying to take care of the million and one overwhelming details that come with widowhood, she was lonely, and this man was THERE for her.
And then he started asking for money. 🚩
He needed her to buy gift cards and send the information to him so he could buy food, he had her send bitcoins for him to "manage for her"... the list goes on and on.
He then introduced her to another (online) man that was supposed to verify and legitimize his identity, his location, and the truth of the tales he was spinning.
Carolyne's friends begged her to STOP talking to this man, stop sending anything to him, block him and his friend. 🚩
But he kept promising that he loved her, that he was going to move to be near her, that he was going to pay back anything she had sent him plus interest.
He even proposed. 🚩
Fast forward to 2023, he finally (finally!!) was inconsistent enough with his story, his friend (who I looked for online and could not find, even though his job would be a matter of public record) told enough inconsistent stories that she finally decided to cut ties.
Now, her debit cards are being hacked on a weekly basis.
She receives phone calls at all times of the day and night from unknown numbers.
Through diligent search, we even found the pictures that this man sent that were supposed to be him.
The pics were lifted from the social media account of a surgeon from years ago.
🚩 This is called the Romance Scam. 🚩
Carolyne is a smart, educated woman.
This man manipulated her emotions, preyed on her mental health, and defrauded a lot of money from her.
When she stopped taking his calls, he started sending threats. He even had a supposed member of the US govt send an email to her to "verify his identity" and "clear up this misunderstanding".
We highly suspect that he sent malware with that video of him and her phone is compromised.
She screens her calls, but he sends messages from unknown numbers challenging her about information that she sent via email or text to friends- that he should have absolutely no knowledge of!
And she is going to have to change her bank accounts/cards, phone number… everything to keep these criminals out of her money and life.
🚩 If you or someone you know is having an online relationship, ask yourself/them the tough questions, even if it's "just friends".
Are they asking a lot of personal questions about you/them while being vague on details about themselves?
Are your friends concerned about what's going on?
Have they asked for money? 🚩🚩🚩🚩🚩🚩
This man was incredibly manipulative. VERY manipulative.
How you can get help: The FBI has a website to report cyber crimes. It's www.ic3.gov.
You can report a suspected scam/fraud/crime on behalf of a friend/family member.
There are free malware/virus protection programs that you should have on all of your devices that connect to the internet in any way.
One that I have used for years is www.avg.com.
We have a resource on our website called "Am I At Risk of Having My Identity Stolen or Being a Victim of Fraud" Download it, it's very helpful. https://bit.ly/3HiW3RK
Add 2 step authentication to any account you can. Change your passwords on a regular basis, and make them not easily guessable. My personal favorite is the first letter from each word in a sentence that I will remember.
I will always regret not stepping up sooner for Carolyne and not being more consistently vocal in my objections.
As friends/family it is our business to point out the red flags. 🚩
Protecting your peace/ your friend/family's peace is worth the effort.
And now this hard lesson that she & I are learning will hopefully prevent someone else from having to learn this lesson the hard way too.